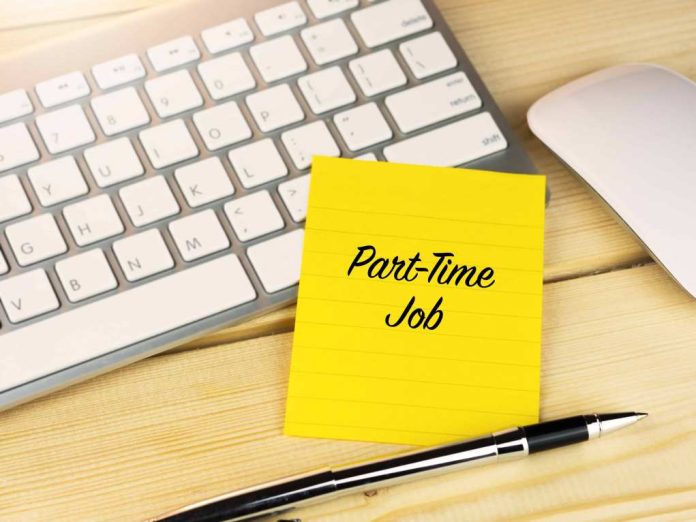 Money is important, but you will need to focus on something else more. You will need to focus on your health, as well. It is very difficult for a lot of Americans to have healthcare coverage without working full-time. Thankfully, you will find that there are some companies that provide healthcare to both their full-time employees and their part-time employees. This article will let you know about five different part-time jobs that can help you receive healthcare coverage. You will be surprised with what you might find. In addition, this article will tell you about "good" healthcare plans and what they consist of.
Part Time Jobs That Offer Health Benefits
You might find it as a surprise, but there are actual part-time jobs that offer healthcare coverage. This means that you do not need to find a full-time job to receive health insurance anymore. You can apply for a job as a part-timer in the following places:
Any Federal Job
UPS
Chipotle
Starbucks
Lowe's
Any Federal Job
The most common form of part-time jobs with healthcare coverage is through the Federal Government. You will find that part-time employees receive the same healthcare coverage as full-time employees, despite the difference in working hours. The only condition is that you will need to have a permanent position. You should keep in mind that it differs how much money from your pay check goes to your healthcare benefits. If you want to find out, then you should contact the  Office of Personnel Management for more information.
United Postal Services (UPS)  
If you are thinking about working for the Postal Services, then it might be your lucky day. There are many job openings in the United Postal Services (UPS) that you should think about applying for. As a UPS worker, you will receive neat healthcare benefits that will help you out. The company prides itself that it offers part-time employees healthcare coverage. Part-time employees receive comprehensive healthcare plans, which include: pharmacy, dental, medical, and vision plans. However, your healthcare coverage depends on the local branch of UPS that you are currently employed in. If you want to find out more about your healthcare plan, then you can look through their  TeamstersCare benefits page. Generally, you are required to work a collective 225 working hours in a 3-month period to be eligible for healthcare benefits. This would count as approximately 20 hours a week.
Chipotle 
This might come as a surprise, but Chipotle offers great healthcare benefits to their part-time employees. Part-times have the choice to get good healthcare plans through Anthem and their dental plan from Delta Dental. Additionally, you can find more information about your healthcare coverage from Chipotle in their benefits handbook. In the case that you require a visit to an eye doctor, or ophthalmologist, you can receive a great vision plan from EyeMed. Also, you and your dependents can get free counseling and mental health services from Chipotle's healthcare plan. If you want to utilize this, then you can receive counseling through in-person appointments or other types of communication.
Starbucks
If you want another option of receiving healthcare coverage as a part-time employee, then you should apply to Starbucks. Starbucks is the foundation of many people's daily routine, but Starbucks has a reputation of respecting their employees. With Starbucks, you could have access to different forms of medical plans and packages. These packages include: Platinum, Gold, Silver, Bronze Plus, and Bronze. Your deductibles can vary from $0 to $3,300. This depends on the medical plan and package you want. In addition, you should remember that Starbucks is one of the few companies that help their employees pay for college education.
Lowe's
Lowe's is one of the biggest home improvement companies in America. They are also famous for their great treatment of part-time employees. You will find branches of Lowe's all across the United States and they offer part-timers with full healthcare coverage. However, your healthcare coverage depends on the current area that you are working in. If you want to look through your options and how much coverage you will receive, then you can find out through Lowe's Health Plan Identifier.
What Federal Assistance Options Can You Apply For Healthcare?
Part-time jobs are great methods to receive healthcare coverage. But, part-time jobs are not the only way to get medical benefits. You can receive healthcare benefits through welfare programs that are federally-funded by the government. There are many federal assistance options that provide financial relief to help cover medical costs. These programs will help you more efficiently and effectively than the opportunities you could get from a part-time job. Some of these federal assistance options that cover medical expenses are:
Medicaid
Medicare
Children's Health Insurance Program (CHIP)
the Veterans Health Administration (VHA) Program
the Indian Health Service (IHS) Program
Medicaid
Medicaid is a welfare program that the Federal Government backs and funds. But, the states are tasked with the responsibility of administering and handling Medicaid. Medicaid is a healthcare federal assistance option that provides financial relief to qualifying families and people with disabilities. The ones who benefit the most from Medicaid are low-income individuals and families, along with people who have specialized disabilities. You will find that Medicaid provides coverage on a lot of medical services, like:
Inpatient Hospital Services
Outpatient Hospital Services
Traditional Medical Care
Dental Care
Vision care
X-Ray Services
Screenings
Laboratory Services
Transportation Services
Translation Services
Medicaid offers healthcare coverage to all of these services and more! You will find that the terms and conditions of each state differ from one state to another. This is because each state has their own Medicaid program. Additionally, there are some states that offer more services, such as: prescription drugs, personal care, and rehabilitation services. If you want to know more, then you should contact your local Medicaid Office, which you can find online.
Medicare
Medicare is a healthcare program that offers qualifying individuals with healthcare coverage. There are certain eligibility requirements for this federal assistance option, which are:
At least 65 years old
Have social security due to a disability
Diagnosed with specific diseases such as end-stage renal disease (ESRD)
Children's Health Insurance Program (CHIP)
The Children's Health Insurance Program, or CHIP, is a federal assistance option that provides health benefits to children who belong in families that are not eligible for Medicaid. If you and your family make too much money to qualify for Medicaid and you cannot afford private healthcare, then you can receive help from CHIP for your children. In addition to children, CHIP may provide healthcare plans for pregnant women. As a recipient, your children will receive coverage for:
Inpatient Hospital Care
Outpatient Hospital Care
Doctor Visits
Routine Check-Ups
Dental Care
Vision Care
X-Ray Services
Immunizations
Laboratory Services
Emergency Services
You will find that there are some states that offer more CHIP healthcare benefits than the service mentioned above. This is why you need to confirm the healthcare coverage that your state offers. If you want to apply, then you can apply through the Health Insurance Marketplace.
Veterans Health Administration (VHA) Program
The Veterans Health Administration (VHA) Program was created in 1946, where it focuses on providing healthcare assistance to veterans. The VHA provides healthcare coverage from Veteran Integrated Service Networks (VISNs). In order to qualify, you will need to meet eligibility requirements to receive healthcare coverage. You will need to fall under a low-income level, be a senior, and/or diagnosed with severe or chronic illnesses. As a recipient, you can receive various medical services, which include:
Traditional medical care
Mental health services
Physical therapy
Indian Health Service (IHS) Program
The Indian Health Service (IHS) is part of the Department of Health and Human Services. This Program offers American Indian and Alaskan Native tribes with medical benefits. Typically, these tribes face a high risk of health issues, like diabetes, substance abuse, and alcoholism. This is typically hard to overcome while dealing with poverty, which is why the Indian Health Service Program is so important.
What Classifies as a Good Healthcare Plan?
As you know, there are many different healthcare coverage plans that you can receive. But, what is it about a healthcare plan that makes it good? There are three main components that you need to think about when you are looking through your healthcare options. Make sure you find a coverage plan that suits your current situation. These factors are: total expenses of the plan, the type of plan and network, and the plan's "grade".
Total Costs of the Healthcare Plan
The total costs of a healthcare plan should not be the main determining component. But, it is an important component to consider. You need to keep in mind that you have to pay a monthly payment on the type of healthcare you will receive. The monthly payment is known as the premium. This cost is essential because you will need to make sure that you can pay for it in your monthly budget. But, other expenses like the deductible and out of pocket expenses are important to think about. That way, your coverage is manageable to pay for.
The Healthcare Plan and Type of Network
There are different forms of health insurance plans, which are:
Health Maintenance Organization (HMO)
Preferred Provider Organization (PPO)
Exclusive Provider Organization (EPO)
Point of Service (POS)
These healthcare plans deal with how much you need to handle providers who are in-network and out-of network. You will find that there are some healthcare plans that have more extensive coverage than others.
The "Grade" of the Healthcare Plan
Basically, there are four grades of healthcare plans. There are Bronze, Silver, Gold, and Platinum. The division of healthcare plans can give you more information on how much the insurance companies will cover and other financial information about your plan. But, you need to choose wisely.
Bronze Plan
If you are looking for an affordable plan with low payments per month and good benefits, then you should consider the Bronze Plan. Monthly payments are manageable for your monthly budget. But, you will not have as much healthcare coverage as other plans. Additionally, you might be responsible for dealing with preventative care.
Silver Plan
If you are willing to spend more each month than a Bronze Plan and receive more routine care, then the Silver Plan is the one for you. Typically, you will not need to worry about out-of-pocket costs with a Silver Plan, as opposed to the Bronze Plan.
Gold Plan
The Gold Plan is suitable for individuals who need constant medical care. You will pay a pretty high monthly payment, but it offers you extensive coverage.
Platinum Plan
The Platinum Plan is the healthcare plan with the highest monthly premium. This is an excellent choice for people who need a lot of medical care. If you want the maximum coverage available in the market, then you should get a Platinum Plan .
Conclusion
In conclusion, you can receive health insurance in various ways. You can get it through a part-time job or from federal assistance options. Make sure that you do your research before you decide on a healthcare plan. But, you need to remember that your health is on the line and you need to take care of yourself.